We can migrate one droplet to another Digital ocean users. For this first, we need to take a snapshot (backup) of the required droplet (server).
Do you wish to manage your digital ocean account, Here are our technical team experts who are willing to serve their services for 24/7. Check our digital ocean management plan for further information. 
 To transfer the snapshot you need to select the "images" tab and click on the snapshot option, from there you can choose the droplet name and enter an image name and then click on the "Take snapshot" option.
Now open the snapshot and click on the More menu option and select the change owner button.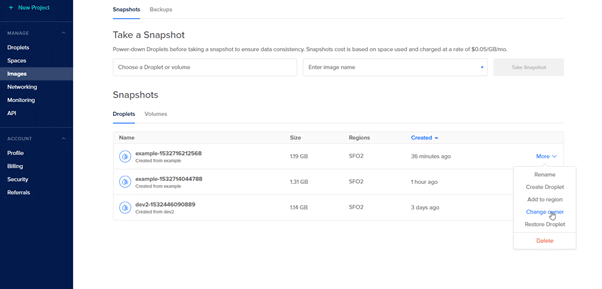 Select the "Transfer to another user" and provide the user email address of the recipient (the digital ocean account which you need to transfer the current droplet).
Next, provide the recipient in the "Transfer snapshot" option. The recipient doesn't provide any control panel notification or email about the transfer for that you need to notify the users.
It displays snapshot transfer pending and you can cancel transfer option in the snapshots by choosing More menu.
If you need to cancel the transfer of the snapshot, you can click on the cancel transfer option.
Then login to the recipient digital ocean account and then move to "images" section, Here you find a pending snapshot transfer request, open the snapshot more menu.
The two options will displayed on the screen "ACCEPT, DECLINE" the transfer, click on the ACCEPT button. We can see the received snapshot in the snapshot section. Try to refresh the page and from the more option of the snapshot, click on the create droplet button.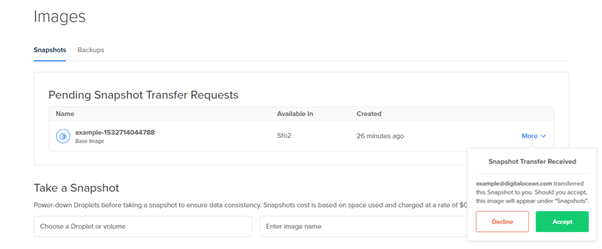 The droplet from previous digital ocean account is now successfully transferred to the new digital ocean account.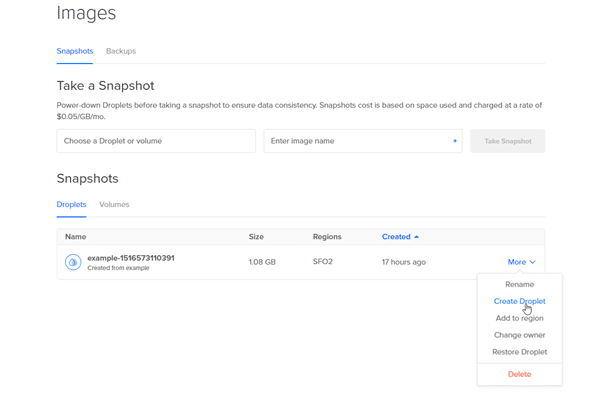 From the received snapshot you can create an extract copy of the droplet for that you need to select the "create droplet" from More menu of the received snapshot name.