Every site owner is concerned about their domain security, so they are going for SSL (Secure Sockets Layer). Cpanel provides a free SSL feature named "AutoSSL" which will be helpful to the domains hosted on Cpanel servers.
What is AutoSSL?
Cpanel provides free SSL, Domain Validated SSL certificate for Apache, Dovecot, Exim, Web disk, Cpanel server services for user's domains called AutoSSL. Normally the expiration period of Cpanel Auto SSL will be 90 days. Cpanel AutoSSL feature will automatically attempt to renew the SSL for the domains included. You can also manually renew the AutoSSL certificates.
How to Enable AutoSSL in WHM?
You can follow the below-given steps for enabling the AutoSSL in WHM.
Log into WHM.
Click on the "Manage AutoSSL" option from the SSL/TLS menu.
From there choose the "Cpanel (Powered by Comodo).
Save the changes done.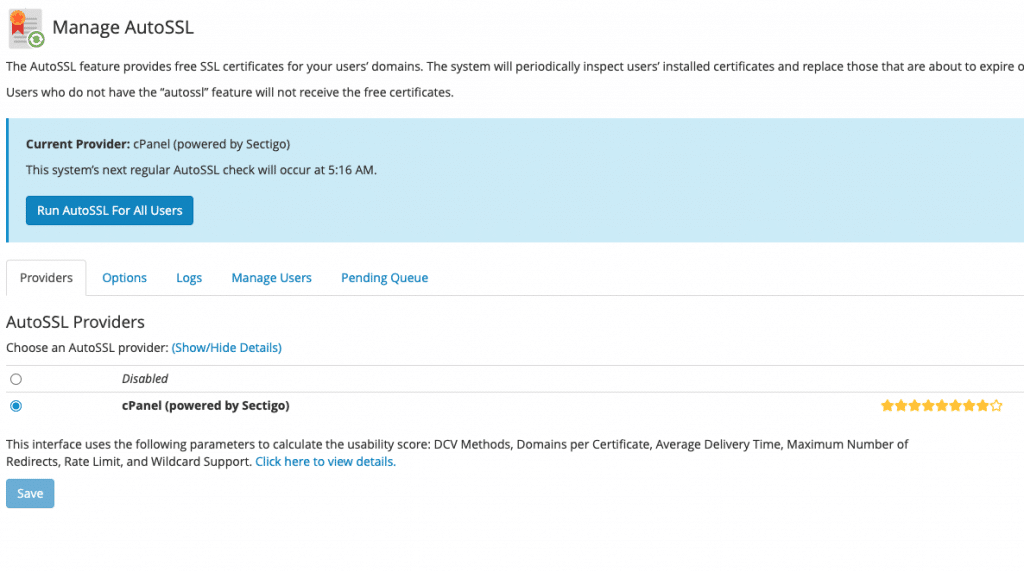 Steps to install Cpanel Auto SSL for the domains:
Login to the Cpanel user account. Then Select the "SSL/TLS Status" option from the security section.
You can see the available domains list which can enable SSL there. There is also exclude and include option for SSL selection. From the list you can select the domains and their mail or webdisk options that need the SSL. (Before proceeding with the SSL installation you need to point your domain's DNS records like A and required CNAME records).
After selecting the domains click on the "Run AutoSSL" option showing in the upper right side of the SSL/TLS Status page.
Running AutoSSL will take some time to complete the process.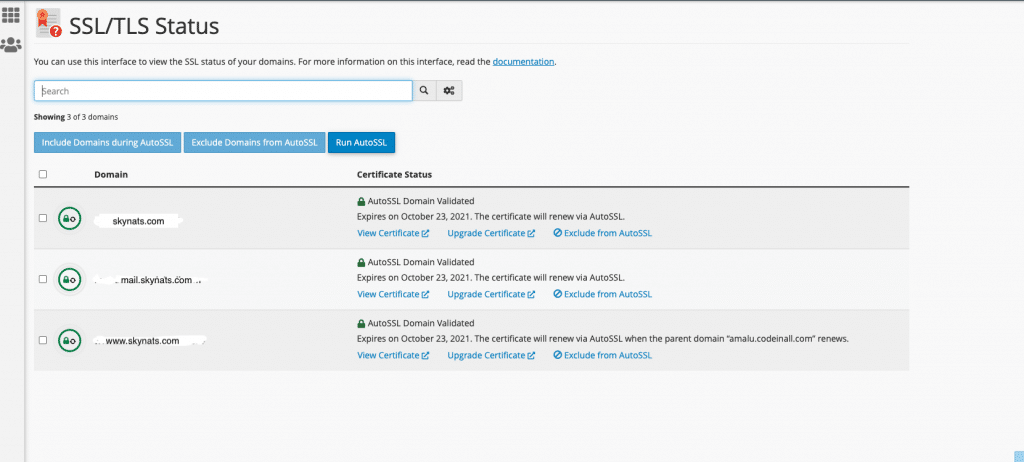 After completing the AutoSSL installation you can see the domain SSL icon as green coloured AutoSSL Domain Validated (as shown in the above image).
If any issue while installing Cpanel AutoSSL occurs the installation window will show the particular issue warning.
For example;

This issue mainly occurs due to improper DNS records added for the domain.
You can check the SSL status from Cpanel SSL –> Manage SSL sites option.

Through this section, we can get the SSL Certificate details and also uninstall the currently installed AutoSSL certificate.
If you are still stuck with your Cpanel AutoSSL setup, our technical team will help you to solve it.