The Plesk and the Cpanel is a web hosting control panels. Plesk is compatible with both Windows and Linux servers whereas the Cpanel works only on Linux platform. Apart, from the Webmin and DirectAdmin, both cpanel and the Plesk has a long history in the market globally.
This article will give an apparent view and details regarding Plesk and Cpanel comparison if you need any sort of assistance regarding Plesk server management try to connect with our technical support team available 24/7 for further details check out our Plesk server management plan.
Usually, the dedicated server is chosen by the big business dealers, whereas the medium and the small scale industries choose shared hosting or semi-dedicated hosting venue. The web servers control panel is the main portal for all online business.
There are many hosting providers that are available in the online market offering different control panels to their clients, whereas the usability and functionality of each control panel are different from each other.
Cpanel
Cpanel has been the prevalent web control panel across the world. No doubt that the cpanel is the simplest and common methods of controlling the servers. By using the control panel you will get a smooth hosting experience with a user-friendly interface. It usually offers many tools to their clients which may include backup tools and database tools.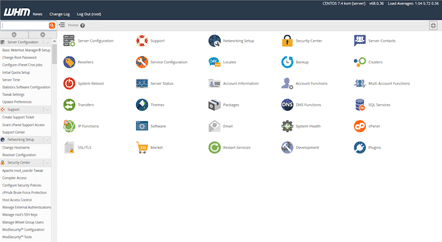 The Cpanel domains are created for every 6 seconds from its servers, and hosting account will be created for every 14.5 seconds. The control panel allows users to understand and manage all the functionalities to handle the website easily.
Cpanel Security features
IP address denials
SSH/Shell access
IP denial management
Password-protected directories
GnuPG key setting
PLESK
The Plesk has been the second widest hosting panel in the world. Plesk is an ideal option for window-based servers. Where within more than 50% of top service providers are using it today. You can easily handle the Plesk control hosting panel for your website without any trouble, with automated updates, patches and the bug fixes. Plesk supports both Windows and Linux operating system. All windows servers, Linux OS are CentOS, Debian, Ubuntu, Redhat, cloud Linux and the Virtuozzo.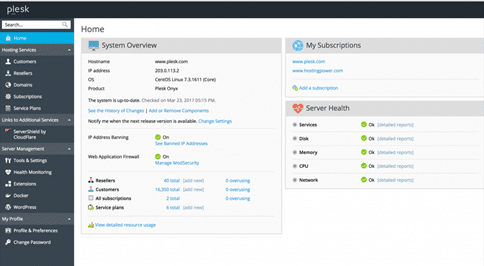 The Plesk has helped the system administrators for over 20 years, Due to its user-friendly interface and features makes the admins manage their server more efficiently. The Plesk provides a multi-level control panel with lots of graphic interfaces and with a complete web hosting to its end-users.
In Plesk control panel the processes and the activities are bit complex when it compares with the Cpanel. It mainly focuses on the domain and website than its features.
Plesk Security Features
Secure all domain with SSI/TLS.
Active Plesk sessions
Active Directory integration
Fail2Ban intrusion prevention system
Similarities 
Domain name system management
Email system management
FTP management
Web-based system access
SSH user/key management
Back-up management.
Database management