The latest version of Plesk obsidian can resolves the problems which arise during the website setup and ensure the subsequent administration of multiple users via the shared panel.
Do you need any assistance regarding securing the website or any downtime, our expert teams are available always to set up it for you. Please Contact Us right now to get it done.
The Plesk obsidian provides excellent security, user-friendliness, efficiency and the flexibility to its end-users. The Plesk obsidian is also available in the latest version PHP7.4
Increasing the level of security
The Plesk obsidian is more robust than the previous onyx. There was a huge difference between the Plesk obsidian and the previous version onyx the main thing was the integration of security tools Mod Security and the fail2ban. The fail2ban was previous highly regarded by the users as the third party software in onyx which was written in the phyton language.
It clears out all sort of invalid login data from the dedicated or the virtual servers. The time periods are also used to set for logins to be blocked with fails2ban in order to prevent penetration by hackers.
Improved productivity
The server administration software has the web stack deployment tools like Git, node.js, Redis and the optimized Docker services. With new version Plesk obsidian, the production improvement was realized and also the backup manager for web spaces was modified. The backup manager was faster when it comparing with the onyx, with more dynamic and occupies the very less space in the Plesk.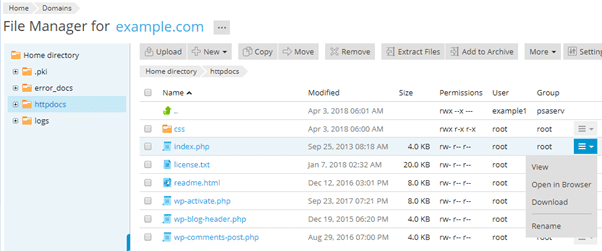 Increase the user-friendliness
With the Plesk obsidian upgrade which has many small and the large changes in order to improve the user-friendliness. Apart from the website management and the application, server, the file manager which has given an overall makeover in it which was now more clearly structured.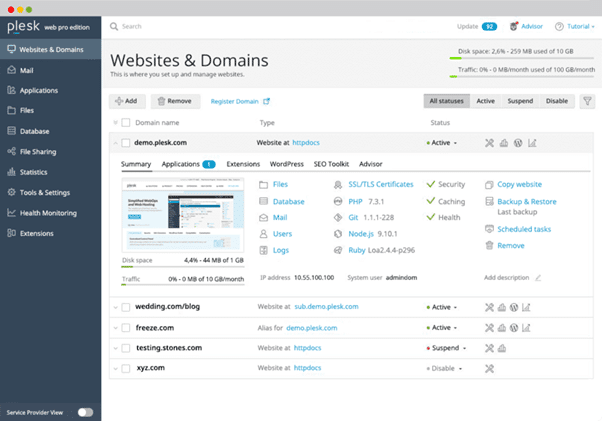 Better performance
Most of the functions are more "out of the box" that makes more readily accessible to the users including the advanced extensions like Monitoring and the Grafana. The admins, reseller and the user now easily can move the domains between the subscriptions.
In order to avoid the delay and long waiting time for the users, the page speed module has been integrated into the NGINX webservers.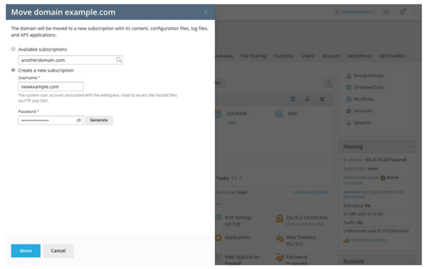 Increase security for website and the email
With the SSL/TLS certification, you can secure the server from various CAs like DigiCert or let's Encrypt. The purchase, installation and also the renewals were clearly displayed on the Plesk interface that clearly shows what has or what hasn't yet been protected.
When it comes to the email traffic which has become more secure with the Plesk obsidian and with the implementation of SNI which refers as server name indication for mail services. SNI encrypts with SSL will connect between the client and server mail. For each and every domain a separate SSL/TLS certification will be added.